Hotel All Seasons welcomes you at the gateway of Dev Bhoomi Uttarakhand in Roorkee city. We are located on National Highway-58, Roorkee. We are among the best and luxurious service and facility providers to the visitors/travellers in Roorkee. We provide best accommodation and dining experience. Our hotel provides the environment friendly comfort to you with green scenics around, Hotel staff is always ready to serve you as per your needs and requirements along with local information and guidance apart from the hotel services and facilities
Hotel All Seasons is situated in the heart of Roorkee on Delhi - Dehradun Road conveniently approachable from most of the Industrial hubs located in the surroundings of the Roorkee.
Hotel All Seasons is a value for money Business hotel with beautifully designed 33 guest rooms, Multi-cuisine Restaurant, Conference Hall & biggest Air-Conditioned Banquet Hall of Roorkee
Facilities Offered at Hotel All Seasons, Roorkee
Choose from our array of facilities tailor-made to suit your requirements of comfort.
Hotel All Seasons is one of the leading hotels in Roorkee.
Uttarakhand - Simply Heaven.
Nestled in the lap of the Himalayas, Uttarakhand is one of the most beautiful northern states of India that enthralls everyone with its spectacularly scenic landscapes. Charming hill stations juxtaposed against snow-capped peaks, quaint villages along winding mountain roads, serpentine rivers carving their way through hills, world renowned conservation parks like 'Jim Corbett Tiger National Park' and 'Asan Wetland Conservation Reserve', world heritage sites like 'Valley of Flowers' and 'Nanda Devi Biosphere Reserve', waterfalls hurtling down slopes and serene lakes shimmering amidst beautiful towns- that's Uttarakhand for you.
Uttarakhand, a state in northern India crossed by the Himalayas, is known for its Hindu pilgrimage sites. Rishikesh, a major centre for yoga study, was made famous by the Beatles' 1968 visit. The city hosts the evening Ganga Aarti, a spiritual gathering on the sacred Ganges River. The state's forested Jim Corbett National Park shelters Bengal tigers and other native wildlife
Near By Attractions
Lansdown
The beautiful town of Lansdowne is situated at an elevation of 1780 m above sea level. It is in the south of Pauri en route Kotdwar and is surrounded by thick oak and blue pine forests offering great mountain views.
Mussoorie
Mussoorie, Queen of the Hills, located some 290 km north of New Delhi, is among the most popular hill stations of the country. It is a captivating paradise for leisure travellers and honeymooners.Saloni river Aquaduct ( Along With Distances)
Mansa Devi Ropeway
Mansa Devi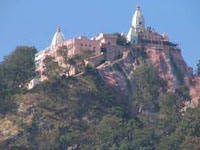 A standout amongst the most visited temples in Haridwar, Mansa Devi Mandir is situated on top of the Shivalik slopes. This temple is devoted to Goddess Mansa Devi, who is believed to satisfy the wishes of the individuals who visit here. It is a convention among lovers, that they tie sacred strings around the tree that stands inside the premises of the Mansa Devi shrine. From the shrine, one can catch beautiful glimpses of the Haridwar town. Alongside the Chandi Devi and the Maya Devi shrines, Mansa Devi temple completes the Siddhapeeth Triangle
Har Ki Paudi
Har Ki Pauri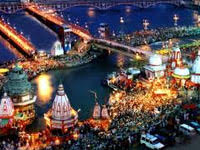 The Har Ki Pauri is the most famous ghat on the banks of the Ganges at Haridwar. This is the ghat that witnesses the daily Aarti ritual and welcomes crowds which flock the banks for the Aarti. The Har ki Pauri is also known as Brahmakund and mythology suggests that Lord Shiva and Lord Vishnu had visited this place during the Vedic times. A temple is built around a large foot mark which is believed to be the imprints of Lord Vishnu. Budget and Luxury hotels are located near the Har ki Pauri to house all types of visitors and guests who visit Haridwar.
Kedarnath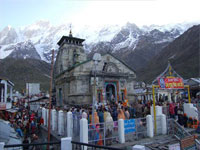 One among the holiest pilgrim centers in northern India, which is situated at an altitude of 3584 meters in the lap of the majestic mountain peaks, Kedarnath in the state of Uttarakhand boast of unparallel credentials in the religious arena. This scenic locale in the Gharwal region proffers an unruffled ambiance with its snowy peaks, alpine forests and colourfulrhodendrons
Rishikesh River
RaftingRishikesh, a most tranquil place in northern Uttarakhand, surrounded by hills and bisected by the wide and sluggish Ganges, is often claimed as the `Yoga Capital of the World'
Valley of Flowers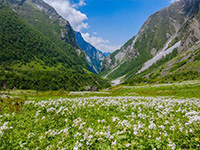 A sprawling expanse of 87 square kilometers in the Chamoli District of Uttarakhand, Valley of Flowers is set in the backdrop of the majestic Zanskar Ranges
IIT Roorkee
Indian Institute of Technology Roorkee
 (abbreviated 
IIT
Roorkee
 or 
IITR
), formerly 
University of Roorkee
 and 
Thomason College of Civil Engineering
, is a public engineering universit
y located in Roorkee, Uttarakhand, India. Established in 1847 in British India by the then lieutenant governor, Sir James Thomason, it is the oldest technical institution in Asia. It was given university status in 1949 and was converted into an Indian Institute of Technology (IIT) in 2001, thus becoming the seventh IIT to be declared.
Piran Kaliyar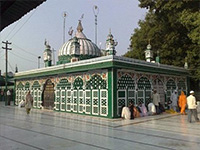 Over the centuries, a small town developed around the shrine and came to be known as Piran Kaliyar. In later history, India's first steam engine, Mary Lind, (specially shipped from England moved on rails in India) ran in Roorkee on 22 December 1851, between Roorkee and Piran Kaliyar, two years before the first passenger train ran from Bombay to Thane in 1853. Operated by the Bengal Sappers, the railway line was built to carry soil used for the construction of the Upper Ganges Canal aqueduct from Piran Kaliyar, 10 km (6.2 miles) from the city.
To reach Kaliyar Sharif, nearest Railway Station is Roorkee. From Roorkee Railway Station you will get Auto on per seat basis (Rs 20/- per person)which will drop you near Dargah Sharif.
Today, Piran Kaliyar Sharif is also an Uttarakhand Legislative Assembly constituency, part of the Haridwar Lok Sabha constituency.